Craft Beers
We have a wide range of craft beers for your enjoyment. If there is a particular craft beer you have come across elsewhere please feel free to ask us to stock it and we will do what we can.
Camden Hells Lager
abv: 4.6%
Golden & Refreshing
A classic lager that's exactly what it should be: easy-drinking, crisp and dry with beautiful bubbles. Clean and refreshing with a dry hop finish, you can taste the great depth of flavour which comes from the long, slow maturation in tank. This is how a great lager should taste.

Brewery Website
http://www.camdentownbrewery.com
Chang Beer
abv: 5.0%
Golden & Refreshing
About Chang Beer


Chang beer is now enjoyed in all corners of the globe. Only the finest ingredients go into the production of Thailand's Chang beer including the finest barley malt and pure deep-well water sourced in Thailand.

HERITAGE
Chang, in Thai, translates as elephant. An animal renowned for its superior strength and mental capacity. Elephants played a major role in Thailand's history, taking warriors into battle against invaders as well as being used in royal and religious ceremonies. In particular a white elephant was a venerable creature worthy of use by royalty and all those of noble birth.

The two white elephants on the Chang beer logo symbolise happiness, harmony and prosperity.

CONCEPT
Chang beer is a combination of Thailand's plentiful resources, creating an authentic Thai beer OF international quality and a clear uniqueness.

Great care and attention has been taken to create the right taste from a blend of ingredients to compliment an array of spicy Thai foods.

Quick to become one of the leading South-East Asian brands, Chang uses deep well-water to achieve the perfect mineral composition to brew lager. The deep well water used to brew Chang beer is so pure it is bottled and sold in Thailand as mineral water.

AWARDS
The Chang brand exceeded every ones expectations, by becoming the number one selling beer brand in Thailand within only 4 years, surpassing a market share of 50%. Today Chang has a strengthening presence not just in South East Asia but around the rest of the world.

Hot off the success of winning two gold medals in 2008 at the USA World Beer Championships and Monde Selection in 2009, Chang was awarded another gold medal from the 2010 World Beers and Drinks Selection. In addition to these recent wins, Chang has also been awarded Australian International Beer Award medals, proving its international appeal.

Brewery Website
http://www.changbeer.com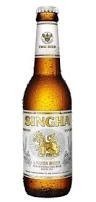 Singha Beer
abv: 5.0%
Golden & Refreshing
The Singha
Singha, a Thai mythical creature in the form of a Lion has been a part of Thai history and nation for as long as anyone can remember. In actuality, it is an animal regarded as King of the Jungle both in Thailand and many countries and cultures worldwide. Figuratively, it is the symbol of power, strength, courage, leadership, dignity, loyalty, perseverance and endurance.

Brewery Website
http://www.singhabeer.com