IN THE CELLAR
We have a wide range of real ales from a variety of sources that we offer. You will find that we change our range frequently and you will be able to keep track of it all here.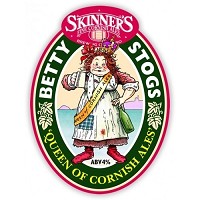 Betty Stogs
abv: 4.0%
Amber & Smooth
Light hop aroma with underlying malt. Easy drinking copper ale with a superb balance of citrus hops, malt and bitterness. Bitter finish is slow to develop but long to fade.

Brewery Website
http://www.skinnersbrewery.com

Hobgoblin Gold 4.5%
abv: 4.5%
Golden & Refreshing
Hobgoblin Gold is the latest beer carrying the little fella's moniker, and while Gold might be lighter in colour, it's definitely no lightweight. At 4.5% abv, the combination of four hop varieties and an infusion of wheat and malted barley has resulted in the perfect golden beer – with a huge hop punch.

Guilt edged golden refreshment. Well what did you expect?


Brewery Website
Oakham - JHB
abv: 3.8%
Golden & Bitter
A golden beer whose aroma is dominated by hops that give characteristic citrus notes. Hops and fruit on the palate are balanced by malt and a bitter base. Dry, hoppy finish with soft fruit flavours.

Brewery Website